Agile 2008 will be arranged around the metaphor of a music festival. There will be a main stage for the big-draw speakers, the larger tutorials for novices, etc.
I was asked to do a stage about testing that wouldn't help shunt people into silos. (It shouldn't be "the testing mini-conference".) I decided the stage would take seriously the usefulness of explicit, concrete examples—executable or no—in the thinking about, construction, and post-construction investigation of software-ish things. Hence the logo: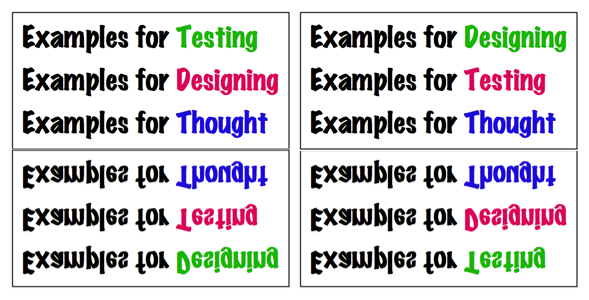 I show two copies of the logo to draw your attention to the fact that the two halves have "testing" and "designing" in different orders. Each time the logo appears, it will be flipped from the last time's orientation. Thus, only the most unreasonable person would complain that I'm giving testing (or designing) undue preference. (Thinkers can complain, but only after giving the matter due thought.)
Given that I was ecstatic about shedding all my responsibilities to The Community after being released from the Agile Alliance board, I agreed to this only under the condition that everyone understood that my goal is to either (1) succeed spectacularly or (2) fail spectacularly. So, while this stage will be the place for business-facing-tests-that-guide-development, test-driven design, exploratory testing, behavior-driven design, and the like, I want it to be edgier and odder than such a list suggests.
For example, I'd like a keynote speaker whose message is something like "'abstraction' is a comforting myth we tell ourselves because we're scared of the dark—there's not really any such thing" or "abstractions are real, just like heroin—time to kick the habit". Someone like Mark Johnson and his notion that the mind can't be separated from a body in an environment, or Rafael E. Núñez, whose working through of the difference between the formal structure of mathematics and the cognitive structure might suggest new ways to think about how we think about systems. (Note: both those people coauthor with George Lakoff, whose work on metaphors and categories—especially Women, Fire, and Dangerous Things—has gotten occasional interest in the software world, but I'm sure he'd be too expensive.)
This conference is to have more community involvement in the shaping of the program than any similar conference, but details have not yet been decided. And, frankly, I'm not sure how to reconcile my long-term belief that vox populi, vox dei with my belief that, at this moment, the vox pop maybe would benefit most from a swift kick in the butt. (In less flowery language: we probably need a much higher percentage of solicited and thematic presentations than we would in better times.)
Watch this space, and comment away.