Unless the contract contains unexpected surprises, I'll be writing a book on scripting your Mac with Ruby for the Pragmatic Bookshelf. Like Everyday Scripting, it will teach by way of projects. I'm looking for reviewers and ideas. The ideas could be projects to do or technologies to cover (e.g., Growl).
By way of example, here are my notes about the first project.

Pretend you're someone who needs to be reminded to take breaks
from the computer. This program provides them.
First version periodically opens textedit on a file that says
"Stretch!" (The handy 'open' command.)
Next: Make it start running at login (startup items)
Next: Tell TextEdit to go fullscreen. (RubyOSA and all that
goes with it.)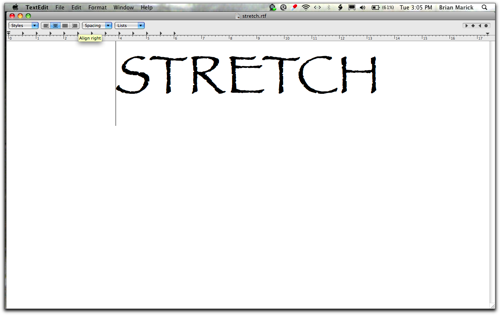 Next: That big screen message is awfully jarring. Use growl
when the interval expires. Resort to the in-your-face screen
when activity shows I'm ignoring the growl message.
Next: Control app with a preference file.
Maybe: add a menubar item (like MoodBlast's) that lets you set
preferences and reset the timer. (Too early in the book for
this?)
Maybe: Do a spiffier full-screen display than TextEdit. How
about mimicking something like Highlight to write over
the screen? (Maybe could take over Highlight's splash screen?)
Another project I want to do is write a plugin to Mail that will let me kill threads in ruby-talk as a way of controlling the flood.