I like reading the Unclutterer site, in more of an aspirational than practical way. Inspired by their survey of reader workspaces, I present mine. I've recently finished optimizing its physical and musical environment with four decent to excellent products. If you crave pampering your proprioception and hearing, read on.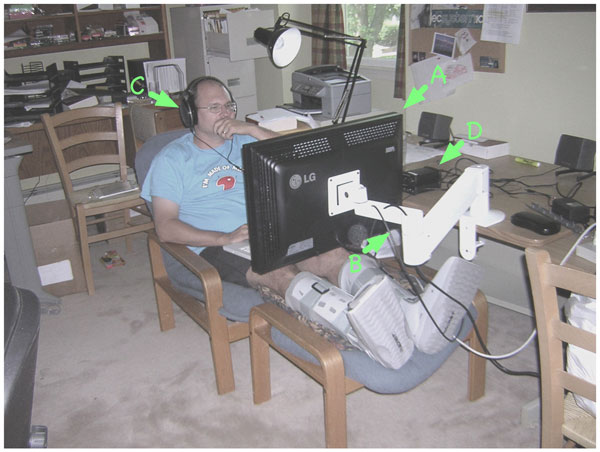 Horribly extravagant, and my cheapskate peasant forebears are scolding me from their graves, but it's been twenty years since my last ridiculously expensive and out-of-character purchase.
P.S. for the ergonomically correct. My upper arms are too long for proper typing posture at a desk or keyboard tray; I hunch my shoulders typing at anything thicker than a thinnish laptop. That, plus my poor abused legs, makes me want the sidecar chair and stool—hence the the monitor arm. I have a slouchy chair because even nifty ergonomic chairs hurt my back (and did even when I had tremendous stabilizing muscles from crunches and deadlifts). This chair, in contrast, is enormously comfortable.
P.P.S. Also pictured is my current favorite T-shirt: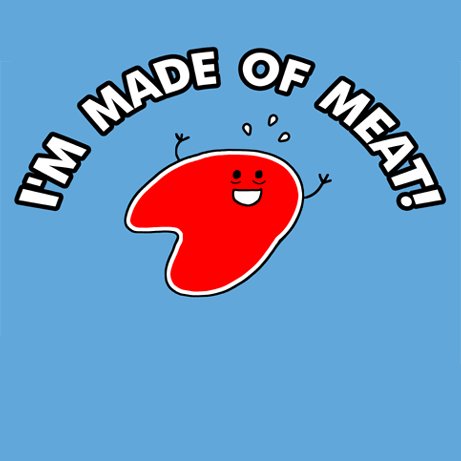 I find it helps with many things. Available from qwantz.com.