Thu, 22 Feb 2007
Can business-facing tests make everyone happy?
Fit has some problems:
Tables turn out to be the exactly right language for only a restricted set of problems. Other problems can be squeezed into that format, but awkwardly. For those people who get new ideas while explaining things in writing, the awkwardness gets in the way of those ideas.

Everyone hates editing HTML. That's true even if you're editing it with Word or Open Office. I don't think either one of them is all that great about handling tables, and HTML tables are noticeably more painful than native document format tables.

Programmers don't like using Fit because they have to leave their programming environment. It's also arguably harder to write support code for Fit than for JUnit (though I'm not convinced).
Maybe I'm groping toward a solution.
Here is a Fit table that talks about a data conversion that's driven by a configuration file: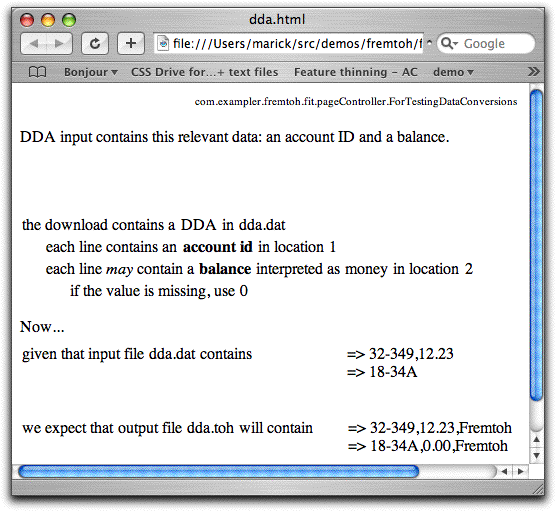 That looks reasonably attractive. You'd be appalled if you knew how much time I spent on it.
Here is the same test in a different format: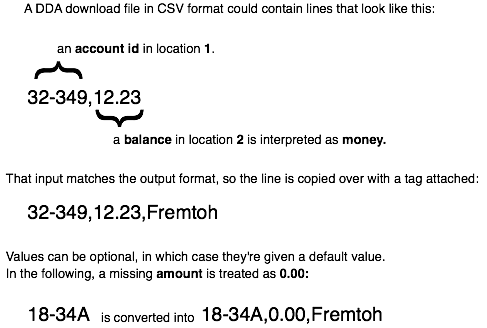 That's an OmniGraffle file. I think it required less fiddling to create. Updating seems to be easier. I think it would be more useful as documentation than the previous test would.
What I've done behind the scenes is extend my existing Graffle parser to handle files like this. I still use the Fit engine behind the scenes, as you can see from the output: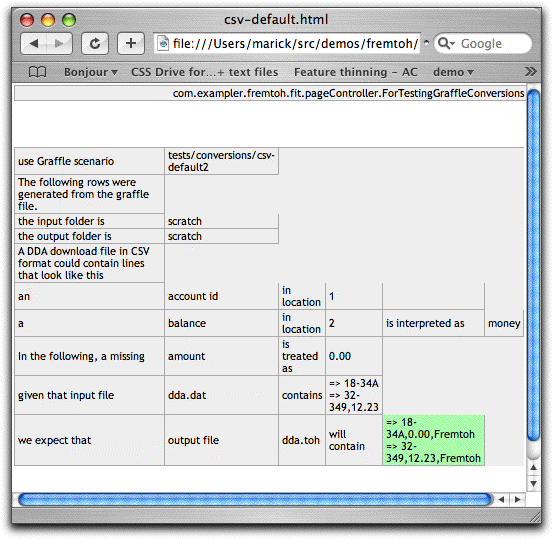 Not so nice to read, but how many product directors really look at test output?
Now the question is: how could this use JUnit as the test execution engine instead of Fit?
Then the question after that is whether I could use a less obscure app than OmniGraffle to generate the tests. Anything that puts out XML should be roughly the same difficulty.