Thu, 30 Nov 2006
Did I say "Scripting for Testers"?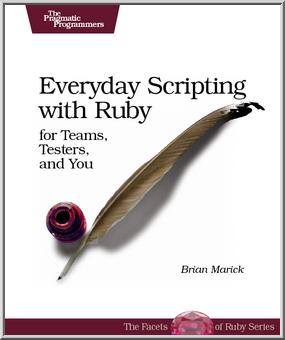 Scripting for Testers has been renamed Everyday Scripting in Ruby because a couple of reviewers argued that pretty much all that was required to make it suitable for a larger audience was changing the title and the bit of Introduction that says who the book is for. So we did.
I hope testers still pick it up. The subtitle says "for teams, testers, and you", which helps Google find it when you type in "scripting for testers." (It's the top hit.)
Sadly, the scheduled ship date is a bit after Christmas. Since it would be sad if testers didn't get the book under their tree, we've decided to delay the holiday.
Thanks to those who helped me on it: Mark Axel, Tracy Beeson, Michael Bolton, Paul Carvalho, Tom Corbett, Bob Corrick, Lisa Crispin, Paul Czyzewski, Shailesh Dongre, Gunjan Doshi, Danny Faught, Zeljko Filipin, Pierre Garique, George Hawthorne, Paddy Healey, Andy Hunt, Jonathan Kohl, Bhavna Kumar, Walter Kruse, Jody Lemons, Iouri Makedonov, Chris McMahon, Christopher Meisenzahl, Grigori Melnik, Sunil Menda, Jack Moore, Erik Petersen, Bret Pettichord, Alan Richardson, Paul Rogers, Tony Semana, Kevin Sheehy, Jeff Smathers, Daniel Steinberg, Mike Stok, Paul Szymkowiak, Dave Thomas, Jonathan Towler, and Glenn Vanderburg.
UPDATE: People have pointed out the lack of links. I am a master of Marketing.
## Posted at 06:47 in category /misc [permalink] [top]


I've started using OpenOffice (in its Mac-ified NeoOffice form) for writing Fit tables. It's working considerably better than Word. Not only does it produce decent HTML (valuable when you're trying to figure out exactly what's going on), it does a better job of producing an HTML file that looks similar to the original WYSIWYG editor view, both when displayed through a browser and when read back into the editor.
I should note that I'm still using Word X for the Mac, so others might have better luck with Word than I've had. But if Word isn't working well for you, check out OpenOffice.